Harley-Shop Langer präsentiert offizielles Custombike
The Lord of the Rings
Bei dem "The Lord of the Rings" - Custom Bike handelt es sich um eines der exklusivsten Zweiräder der Welt. Wir, die Firma Harley-Shop Langer, haben von New Line Cinema die weltweit einzige Lizenz erhalten, Custom-Bikes im Design der "Herr der Ringe" Kinofilme zu entwerfen und zu bauen. Daraus entstand dieser Traum auf zwei Rädern.
Mit ihr gewannen wir im Jahre 2003 auf der Daytona Bike Week den ersten Platz "Best of Show" bei der Boardwalk Classic Bike Show und den dritten Platz in der ebenfalls hart umkämpften "Radical over 1000" Klasse der Rats Hole Bike Show. Aber auch in der alten Welt bewies unser Aufbau Show-Winner Qualitäten. Kurz nach der Rückkehr aus den USA wurde die "The Lord of the Rings" auf der Custom Chrome Show den Titel Show Winner. Weitere Pokale als "Best of Show" folgten beim Easyrider Bike Contest und dem Fierek Festival sowie 2004 bei der Biker Mania in Saalbach Hinterglemm.
The Lord Of The Rings
Fotogalerie
Direktaufruf Fotos des Umbau - Der Herr der Ringe Custombike | anzeigen
Aktuelles aus dem Shop
Neu 2021: Street Bob 114
2021 ist da. Neu: Street Bob 114. Nicht nur der Motor, nun mit satten 114 CI, hat ein Upgrade erh...
Fat Boy 2021 Glanzstück
Glänzender Auftritt für die 2021er Fat Boy. Für das Modelljahr ist sie mit glänzendem Chromteilen...
2021 CVO Street Glide
Das Highlight 2021: Die vier CVO Modelle CVO Road Glide, CVO Street Glide, CVO Limited und CVO Tr...
Harley-Shop Langer Customshop
FXDR Demon
In sattem Rot steht sie da, mit flachem breiten Lenker, unser FXDR Demons Custombike...
Umbau Offensive - Street Bob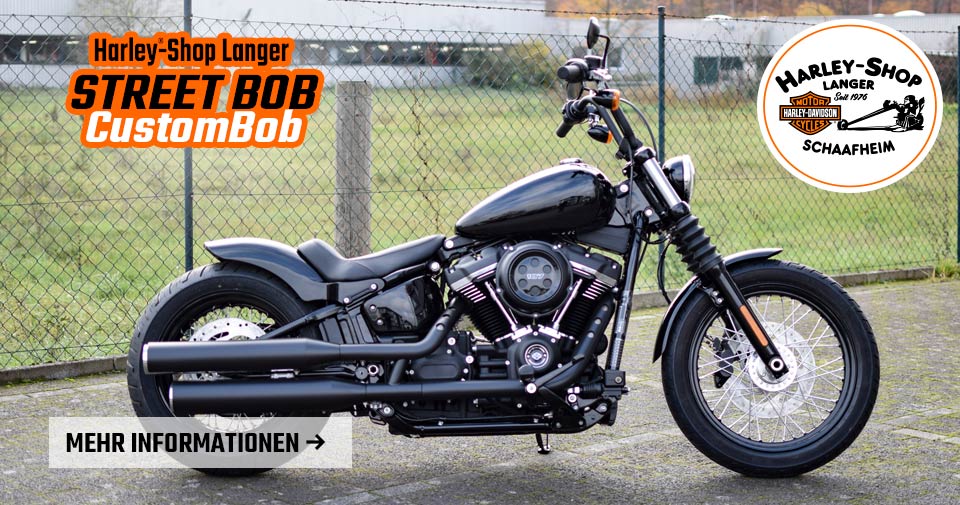 Street Bob CustomBob
Klassiches Bike mit viel Charme umgebaut. Heckumbau mit fettem Hinterradreifen und versteckten Features. Starte in die Softail-Welt mit Deiner CustomBob.